25 years clerking chambers
11 August 2019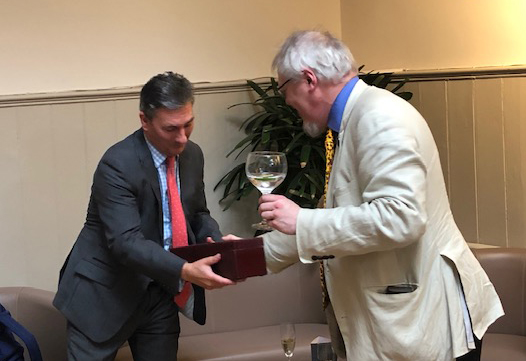 Current and former members and staff of East Anglian Chambers gathered at Arlingtons on Museum Street, Ipswich last Friday evening to throw a surprise party for senior clerk Fraser McLaren, to celebrate his first 25 years clerking in chambers.
Appointed in 1994 by then Head of Chambers John Holt as senior clerk in Colchester (one of a triumvirate of senior clerks managing the different branches of chambers in Norfolk, Suffolk and Essex) Fraser has, since restructuring in 2010, been the sole Senior Clerk and now manages all clerking centrally from a busy clerks room at our Ipswich premises.
In the photo current Head of Chambers Graham Sinclair is seen presenting Fraser with a bottle of 1994 vintage port to mark the occasion.
< Back to News