Legal 500 2024 – East Anglian Chambers' Barristers Recognised
05 October 2023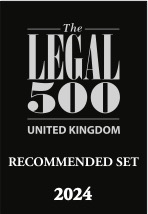 This week the annual Legal 500 rankings were published and we are proud to announce our barristers have once again been recognised for their skill and expertise by this leading industry body across a broad spectrum of areas that members practice within. East Anglian Chambers is a recommended set of barristers in the 2024 Edition of the Legal 500.
The Family team was noted for its depth and experience with notable repeat entries for Head of Chambers, Kate Miller, and Akta Chipalkatty. Within this year's rankings, talented junior Michael Allin was listed for the first time in both the family and personal injury sections: "Michael is a sound advocate. He is compassionate towards clients in difficult situations which put the client at ease during complex fact-finding hearings."
The civil team was recognised again for its expertise with the head of our civil group, Nicholas Michael, recognised as a Tier 1 leading junior in Commercial Litigation as well as rankings in Chancery, Probate and Tax and Property and Construction. Simon Redmayne was ranked in each of these categories as well noting: "Simon is an outstanding communicator who instantly puts clients at ease with his calm and professional manner. He is also a truly formidable advocate." Marcus Croskell was ranked again as a Tier 1 leading leading junior in Commercial Litigation as well as being a ranked junior barrister in Chancery, Probate and Tax. Shona Harvey is noted within her specialism of Personal Injury to be, "…very thorough and gives great attention to detail. She gives excellent advice with well-thought-out and considered opinions.She is extremely helpful and patient." Door tenant, John Ratledge, was noted as a Tier 1 personal injury junior.
To see the full Legal 500 rankings for 2024 for our members, please see their website here.
If you would like to instruct any member of Chambers, please contact the clerks on 01473 214481 or contact them HERE.
< Back to News