East Anglian Chambers a 'Leading Set' in 2023 Legal 500
07 October 2022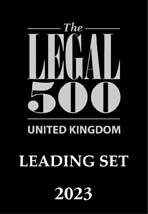 East Anglian Chambers is pleased to once again announce that members have been recognised in the 2023 edition of the Legal 500, with entries under Commercial litigation, Family, Property and Construction, Personal injury, and Clinical negligence.

Leading Juniors:
Simon Redmayne – 'Outstanding technical and client-facing skills. Formidable advocate and very likeable practitioner. Vastly experienced, honest, and pragmatic.'
(see the Legal 500 here)
Family & Children Law (public and private)
'East Anglian Chambers is well-renowned for its ability to 'offer a comprehensive service in all aspects of family law', including acting for local authorities in public law matters and representing parents, children, and other family members in care proceedings. Kate Miller is described as a 'fierce and helpful advocate who is determined, outcome-focused, and has a fantastic way with clients'. Akta Chipalkatty focuses on Children Act matters involving difficulties with contact, domestic abuse, safeguarding issues, and parental alienation, while Amy Connell has extensive experience in complex cases involving substance abuse, mental health, physical and sexual abuse, and immigration issues.'
Particular general testimonials of note in the current Legal 500 include:
'East Anglian Chambers is friendly, professional with a good choice of barristers with different levels of call and experience.' 
'East Anglian Chambers barristers are brilliant. Barristers are always polite and give a piece of good thorough advice and go above and beyond to assist.' 
Leading Juniors:
Kate Miller – Tier 1 – 'Kate is a fabulous barrister with a pragmatic approach. She advises in a jargon-free manner and in a way that clients can easily understand.'
Akta Chipalkatty –  Tier 4 –'Akta is always accommodating and will do what she can. She always drafts documents for you and ensures documents are ready for a hearing so that the court case can progress well. She always liaises directly with the client department to give clear guidance/legal advice on each case. She is always approachable.'
Amy Connell was also noted within this year's publication. Amy has recently moved away from the area and left Chambers. We wish are well with her future ventures.
(see the Legal 500 here)
Leading Juniors:
John Ratledge – 'John's strengths lie in his ability to assimilate a large quantity of information and evidence to get to the core issues in a very short period. He is very supportive of witnesses and experts during the conference but knows exactly when and how hard to push them on their evidence to get what is required out of them. He is very impressive when it comes to trial advocacy and a skilled and formidable advocate, especially in cross-examination.'
(see the Legal 500 here)
Leading Junior:
Simon Redmayne
(see the Legal 500 here)
Leading Junior:
(see the Legal 500 here)
If you would like to instruct a member of East Anglian Chambers, do not hesitate to contact a member of our clerking team on 01473 214481, by email or using our website contact form which is available here.
< Back to News