New printer for Law Centre
06 February 2019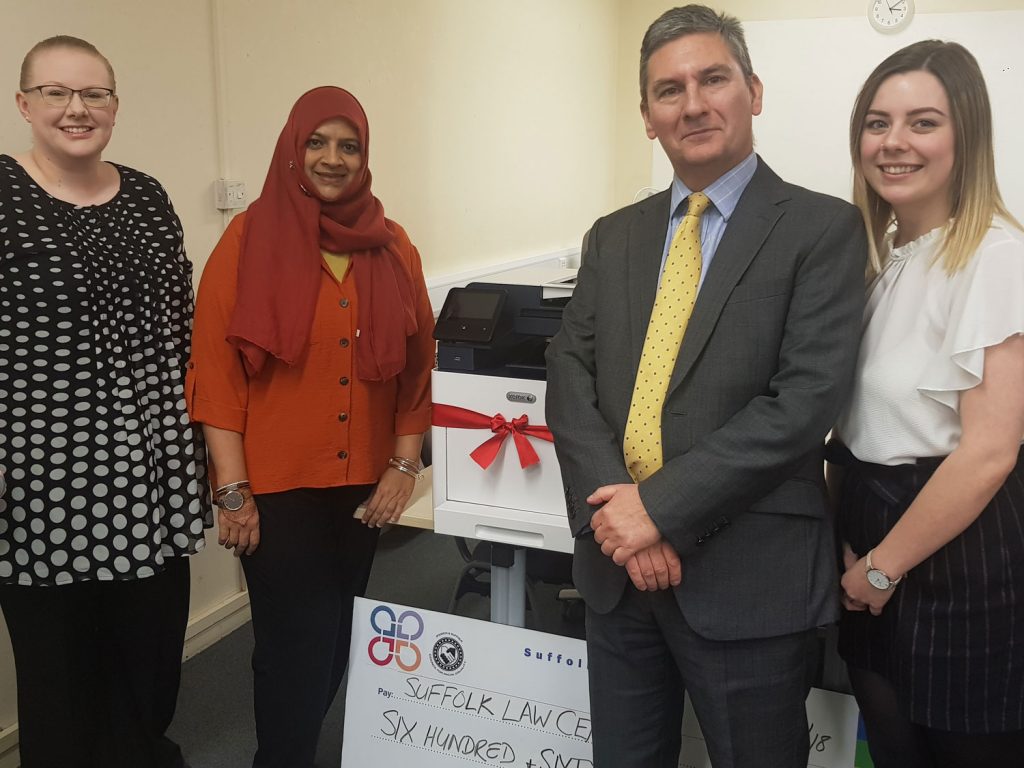 Senior clerk Fraser McLaren and junior clerk Lucy Jenkins were delighted to hand over a cheque to staff of Suffolk Law Centre, enabling it immediately to improve its ability to meet clients' needs.
Suffolk Law Centre is the UK's newest Law Centre. Founded by Ipswich and Suffolk Council for Racial Equality (ISCRE) as a new charity in April last year, Suffolk Law Centre offers free legal advice on issues such as Family, Immigration and Housing, as well as a free discrimination casework service, to people who cannot afford to pay legal fees. Audrey Ludwig, Director of Suffolk Law Centre, started the campaign to set up a Law Centre in Suffolk in 2013 out of concern for the impact on access to justice from the cuts to civil legal aid through LASPO.
ISCRE and Suffolk Law Centre are co-located, on St. Matthews Street, Ipswich, and share office space and backroom staff.
East Anglian Chambers is a Founding Patron of Suffolk Law Centre, and members and staff have been very generous in their fundraising contributions to the small charity. At their annual dinner in November 2018, proceeds of the raffle were donated to Suffolk Law Centre. This news could not have come at a better time for the team at the Law Centre.
"We have recently moved our reception downstairs to our ground floor. This is good for us, and for clients, as previously our reception was on the first floor, so not fully accessible as we do not have a lift. However, our photocopier and printer is upstairs, where most staff are still located," says Sophie Hawkins, Law Centre Practice Manager. "We really needed to get a printer for downstairs, but didn't have the funds to cover this. So, when we were told about the generosity of the team at East Anglian Chambers, we were over the moon."
Sumaiyah Jeelani is the Triage Officer for the weekly Legal Advice Clinic at the Law Centre, and staffs reception. "This is going to make a huge difference to how we manage the office. No more trekking up and down the stairs to photocopy documents. Many thanks to everyone at East Anglian Chambers."
Photo: Sophie Hawkins and Sumaiyah Jeelani receive their cheque from (and show off their new printer to) senior clerk Fraser McLaren and Lucy Jenkins from East Anglian Chambers.
< Back to News